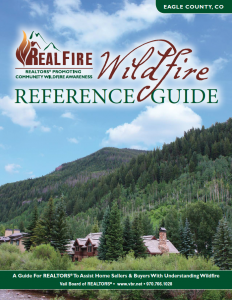 REALFire – Working with REALTORS® in the Vail Valley
WPI, in collaboration with Wildland Professional Solutions (WPS), has worked closely with the Vail Board of REALTORS® to design a new wildfire outreach program called REALFire. As part of the REALFire program, the WPI/WPS project team created a suite of reference materials for REALTORS®, home buyers and home sellers throughout the Vail Valley. These resources provide local wildfire information for realtors when talking to clients, mitigation tips for improving a home when preparing to put it on the market, and suggestions for buyers when looking for wildfire safety features in their new home.
The WPI/WPS team has also coordinated stakeholder meetings throughout Eagle County to assist the Vail Board of REALTORS® in planning future activities for the REALFire program, including a potential wildfire risk assessment initiative.
Learn more about the REALFire initiative – www.vbr.net